You are here:
Horseradish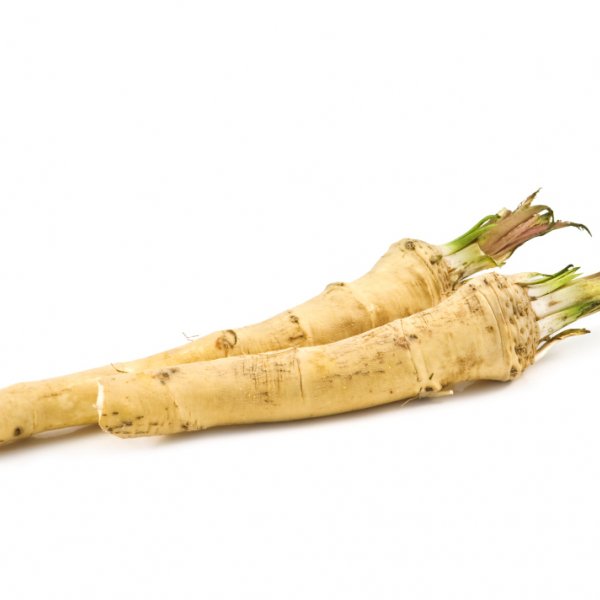 these tasty Horseradishs in
your own packaging?
Would you like to discover what's possible?
Contact us now

Horseradish

Storage
In the shop: min 0°C – max 2°C
Ethylene sensitivity: Low
Ethylene production: Low
At home: Refrigerated
Quality and ripeness
Horseradish should feel firm.
It should not have any branches or discolourations.

Use
The taste of the root resembles that of mustard, the same goes for the horseradish sauce. Horseradish can therefore be used as a mustard replacement. If necessary, you can stabilise the taste by adding vinegar.
Horseradish is used as a general flavour enhancer in Germany, Denmark and in the Jewish kitchen, especially for fish. In addition, the root can be used raw or roasted to add to sauces for roast beef and other things. It also goes well with chicken or hard boiled eggs combined with vinegar and cream.
It is recommended to grate the root in a properly ventilated room as it activates the tear glands even more than onions do. In addition, it is not recommended to boil the root; it is best to use it fresh.
Did you know that:
wasabi is a - slightly stronger - Japanese variety of horseradish?
horseradish is also referred to as pepper root because of its spicy flavour?
the root can be used as a natural antibiotic or as a bandage for inflamed wounds and arthritis?
horseradish contains a lot of vitamin C? Ideal against spring fatigue and vitamin shortage.
Transport methods
| Air | Sea | Land | |
| --- | --- | --- | --- |
| | | | Austria |
| | | | Germany |
Key
Transport method
not used
Transport method
used