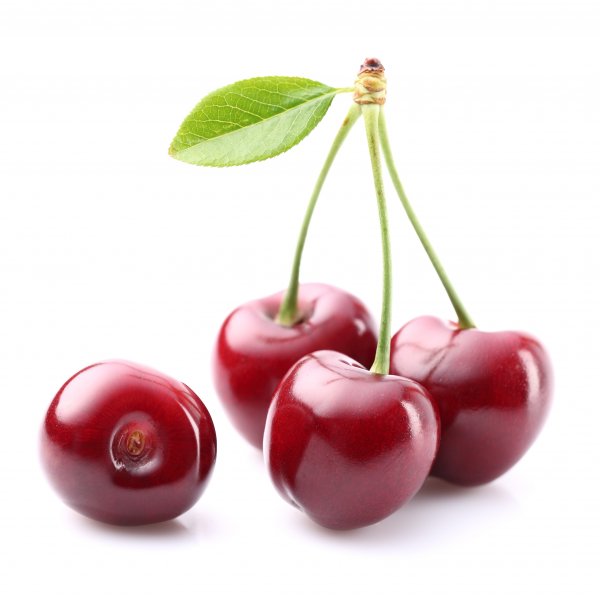 these tasty Cherriess in
your own packaging?
Would you like to discover what's possible?
Contact us now

Cherries
Storage
In the shop: min 0°C – max 1°C
Ethylene sensitivity: low
Ethylene production: low
At home: keep refrigerated
Cherries keep for one or two days at room temperature and slightly longer when refrigerated. Cherries have quite a short shelf-life because they can only be picked when ripe. It is recommended to keep cherries in a plastic bag to prevent them from drying out. Prevent bruising by spreading them across a dish. Only remove the peduncles after rinsing to prevent the cherries from losing their aroma.
Quality and ripeness
It is recommended not to keep cherries next to vegetables or fruits with a strong scent, such as citrus or onions, because they are sensitive to scent transfer. Depending on the variety, the colour ranges from bright red to deep red and purple.
Use
Sweet cherries are delicious in pies or cakes, as a smoothie or just on their own. However, cherries have much more to offer. They can be combined with all kinds of nuts, fruit and cheeses in salads or meats. Finish your dishes with some balsamic vinegar for the perfect match on your plate.
Did you know that...
the brix value is at least 14% and ideally averages at 16%?
cherries are a source of melatonin? Melatonin works to achieve healthy sleeping patterns and so it helps reduce jet lag.
cherry seeds can absorb heat or cold and can release it gradually? Those delicious cherry seed cushions are the direct result.
cherries constitute a healthy source of quick energy due to their large concentrations of quick sugar? Guilt-free energy. Ideal when under the weather or before exercising.
Transport methods
| Air | Sea | Land | |
| --- | --- | --- | --- |
| | | | Argentina |
| | | | Australia |
| | | | Belgium |
| | | | Canada |
| | | | Chile |
| | | | Denmark |
| | | | Spain |
| | | | France |
| | | | New Zealand |
| | | | Turkey |
| | | | United States |
| | | | South Africa |
Key
Transport method
not used
Transport method
used