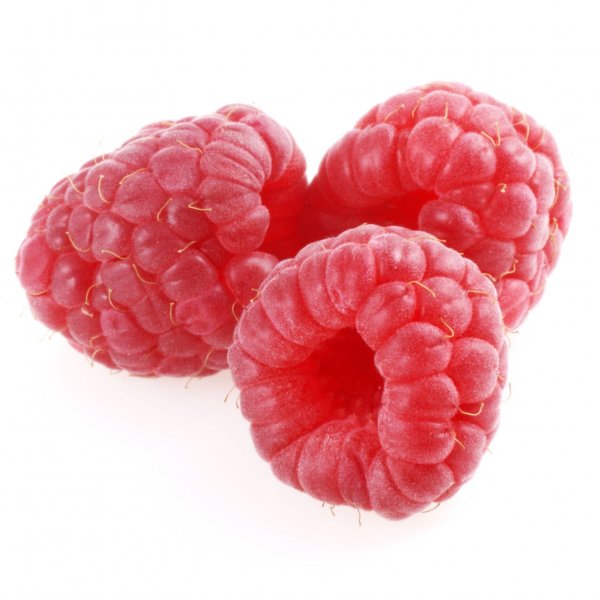 these tasty Raspberriess in
your own packaging?
Would you like to discover what's possible?
Contact us now

Raspberries
Raspberries are available year round because of the use of various growing methods. They are grown in plastic tunnels or glass greenhouses which can be heated. But outdoor cultivation is also possible.
The varieties available are Kwanza, Kweli, Adelita and Tulameen.
Storage
In the shop: min 0°C – max 3 °C
Ethylene sensitivity: low
Ethylene production: moderate
At home: keep refrigerated
Raspberries are best consumed as quickly as possible after purchasing or harvesting them. Their shelf-life amounts to 1 to 2 days in a cool location, and 3 days in a refrigerator. You can prevent the fruits from bruising by spreading them across a larger surface area. It is important to keep raspberries dry and therefore unwashed. Carefully rinse them in water right before consumption.
You can also freeze raspberries, but those are only suitable as part of a recipe. Once defrosted, they will have lost part of their shape and colour.
Quality and ripeness
Raspberries are sensitive fruits, bruises can quickly cause mould. Keep this in mind when buying the fruit. Only buy raspberries that look fresh and dry.
Use
Due to their sweet taste raspberries are delicious on their own. They taste great in yoghurt, curd, jam, juice and sauces. You can also mix raspberries with other delicate fruits. Raspberries are excellent for use in cakes, pies, scones, cookies, etc.
Their refreshing sweet taste adds an original twist to the preparation of white meet, sweet and sour dishes or salads. They go very well with a salad with lettuce, cucumber and balsamic vinegar. The combination of raspberry and goats cheese is also a guaranteed success! It is also easy to make your own raspberry vinegar by adding some raspberries to vinegar.
Did you know that...
raspberries are considered very healthy fruits? They are rich in fibres, manganese and vitamin C. A 240 gram portion contains the Recommended Daily Dose of vitamin C. Manganese constitutes an important mineral for our metabolism.
Transport methods
| Air | Sea | Land | |
| --- | --- | --- | --- |
| | | | Belgium |
| | | | Spain |
| | | | Morocco |
| | | | Mexico |
| | | | Netherlands |
| | | | Portugal |
Key
Transport method
not used
Transport method
used
Packaging
personalised packaging available by request
Recipe: raspberry panna cotta
Ingredients
5 dl cream
1 vanilla pod
60g sugar
2 sheets of gelatine
125g raspberries
Preparation method
Cut the vanilla pod in half and scrape out the seeds. Mix together with the sugar and the cream in a saucer and bring slowly to the boil. Leave to infuse for 10 minutes. Soak the gelatine in cold water until soft. Take the cream of the heater and add gelatine. Leave to cool whilst stirring occasionally. Put in small ramaqins and leave overnight in the fridge to set. Turn on a plate and decorate with raspberries and some raspberry coulis.