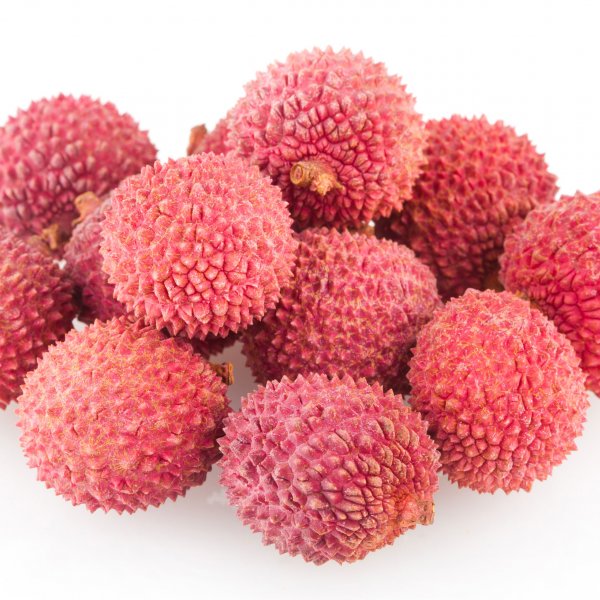 these tasty Lychees in
your own packaging?
Would you like to discover what's possible?
Contact us now

Lychee
Storage
In the shop: min. 0°C – max. 2°C
Ethylene sensitivity: low
Ethylene productivity: low
At home: In the fruit compartment of the refrigerator or better still in a cool place outside of the refrigerator. This helps better retain their taste.
Quality and ripeness
Lychee change colour during the ripening process; they go from pink-red to red-brown. They are picked in a ripe state and can be consumed immediately. The lighter the colour, the more fresh the lychee. Fresh lychee have an elastic skin, old fruit gets a crispy skin!
Use
The tough skin of the lychee breaks under the pressure of a finger and/or nail and can then be removed from the flesh. Lychee have a sweet, aromatic taste. Eat the flesh fresh and serve it with ice cream and whipped cream. Use lychees in fruit salads, salads and sauces. The flesh and juice are excellent additions to fish or meat dishes. The flesh can be used in cocktails, sorbets and ice cream.
Availability calendar
| Jan | Feb | Mar | Apr | May | Jun | Jul | Aug | Sep | Oct | Nov | Dec | |
| --- | --- | --- | --- | --- | --- | --- | --- | --- | --- | --- | --- | --- |
| | | | | | | | | | | | | Mauritius |
| | | | | | | | | | | | | Madagascar |
| | | | | | | | | | | | | South Africa |
| | | | | | | | | | | | | Thailand |
| | | | | | | | | | | | | Israel |
Key
Out of season:
not available
Month in season:
available
Promo season:
special offer available
Transport methods
| Air | Sea | Land | |
| --- | --- | --- | --- |
| | | | Madagascar |
| | | | Mauritius |
| | | | Thailand |
| | | | South Africa |
Key
Transport method
not used
Transport method
used
Packaging
personalised packaging available by request