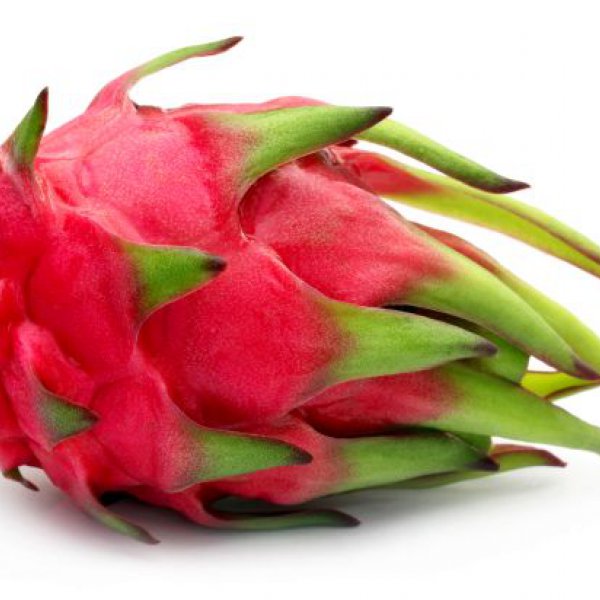 these tasty Pitahayas in
your own packaging?
Would you like to discover what's possible?
Contact us now

Pitahaya
Storage
In the shop: min. 8° C - max. 10° C
Ethylene sensitivity: low
Ethylene productivity: low
At home: In the fruit compartment of the refrigerator: 3 days to 1 week or in a fruit bowl
Quality and ripeness
The ends must look fresh, older pitahayas have dry and black protrusions.
Sensitive to cold temperatures.
Use
Cut in half and scoop or slice and consume as is. Another way is to remove the tips of the pitahaya up to the flesh on both sides and make a cut from top to bottom up to the flesh. This allows for the skin to be pulled off by hand. Now you can cut the flesh into nice and round slices.
The taste resembles melon and kiwi. Suitable for (tropical) fruit salads and is great to decorate dishes and buffets.
Availability calendar
| Jan | Feb | Mar | Apr | May | Jun | Jul | Aug | Sep | Oct | Nov | Dec | |
| --- | --- | --- | --- | --- | --- | --- | --- | --- | --- | --- | --- | --- |
| | | | | | | | | | | | | Spain |
| | | | | | | | | | | | | Morocco |
Availability calendar Red - White
| Jan | Feb | Mar | Apr | May | Jun | Jul | Aug | Sep | Oct | Nov | Dec | |
| --- | --- | --- | --- | --- | --- | --- | --- | --- | --- | --- | --- | --- |
| | | | | | | | | | | | | Thailand |
| | | | | | | | | | | | | Vietnam |
Key
Out of season:
not available
Month in season:
available
Promo season:
special offer available
Transport methods
| Air | Sea | Land | |
| --- | --- | --- | --- |
| | | | Thailand |
| | | | Vietnam |
Key
Transport method
not used
Transport method
used
Packaging
personalised packaging available by request